In this guide, you will learn how to integrate Zoom with Calendar.AI. This integration allows you to add a unique Zoom meeting link to calendar events.
Add Zoom to calendar events
Tap on the "+" button in the bottom bar to create a new event.

Enter the event details (title, people, etc).

Tap on "Conferencing".

Tap on "Zoom" in the menu.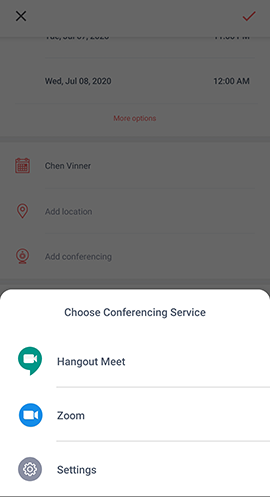 5. Enter your Zoom login information, then click "Sign In".
6. On the next screen, click "Authorize" to grant access to your Zoom account.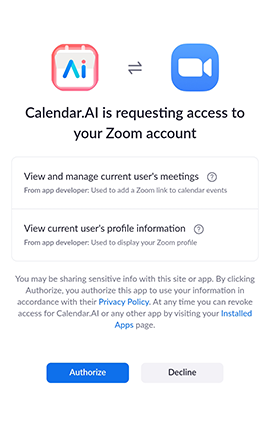 7. You're all set. Now tap on the checkmark button in the upper right corner of the screen to save the event in your calendar.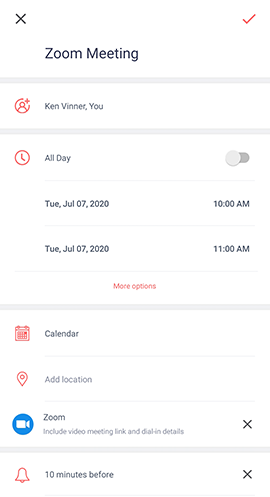 8. A new event will be created in your calendar with a Zoom meeting link.
Disconnecting Zoom from Calendar.AI
Open Calendar.AI's side menu.

Tap on "Settings".

In the Settings screen, scroll down to the "Conferencing Integrations" section.

Tap on "Zoom" and approve you would like to disconnect your Zoom account.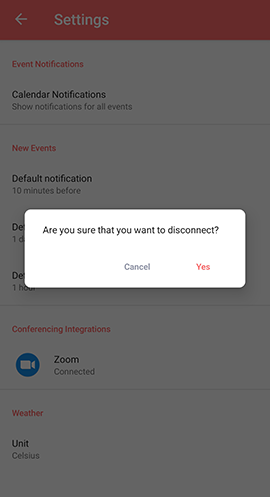 Deauthorizing from the Zoom App Marketplace
Visit Calendar.AI's app page on the Zoom App Marketplace.

Click "Uninstall" to uninstall and reauthorize Calendar.AI from your Zoom account.
Contact Support
Do you need any further assistance?
Our support team is available Monday to Friday from 9:00am to 6:00pm EEST.
SLA: We will get back to you within 1 business day.
Contact Us: Create a support ticket
Learn More: Visit our Support Center
Support Email: support@sync.ai